BLOSSOMS Lesson: A Fun Resource for Celebrating International Pi Day, 3/14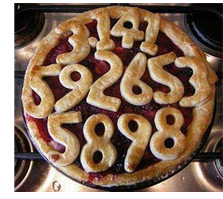 What better way to celebrate International Pi Day than to use a lesson created by a Chinese high school math teacher from Chongqing, China? This lesson, "How to Estimate the Value of Pi", is designed to stimulate the learning interests of students, to enrich their experience of solving practical problems, and to develop their critical thinking ability. Students will enjoy estimating Pi by direct physical measurements – using any round or cylindrical shaped objects available, such as cups or water bottles. They will also be challenged when estimating Pi value by a geometric probability model, and can use a dartboard with darts, or more safely, marbles thrown to a target on the floor. This lesson comes to BLOSSOMS from Renyong Feng, a teacher at the Verakin High School of Chongqing. Watch it here.
BLOSSOMS Works with Rhode Island Science Teachers to Create Lessons Aligned with NGSS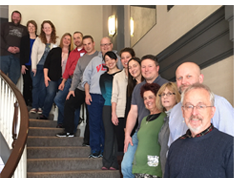 On March 5th, BLOSSOMS held the first of two workshops with R.I. science teachers who are interested in making BLOSSOMS lessons that demonstrate how to incorporate the Next Generation Science Standards into classroom teaching. Ten middle and high school science teachers are participating in the initiative. Their new lessons should be available on the BLOSSOMS website in late 2016.
MIT LINC 2016 Conference Will Feature BLOSSOMS Workshop and Panel


Hosted by MIT's Office of Digital Learning on May 23 – 25, 2016, the MIT LINC 2016 Conference will bring the world's leading educators, technology entrepreneurs and digital learning experts to MIT to discuss innovative work being done in the intersections of Digital Inclusion: Transforming Education through Technology. LINC was founded in 2001 by Professor Richard Larson, the Mitsui Professor at MIT's Institute for Data, Systems, and Society and co-creator of MIT Blossoms. Professor Larson will moderate the BLOSSOMS-focused panel Technology Enabled Education (TEE)-Around the World in 80 Minutes! Speakers on this panel will analyze their experiences with TEE considering three interrelated factors: technology, people and educational institutions. MIT BLOSSOMS will also host a pre-Conference workshop on Sunday, May 22, inviting participants to learn how to use the BLOSSOMS active learning videos in the classroom and for professional teacher development. Read more here.

BLOSSOMS will have a booth in the MIT Pavilion at this event together with other K-12 programs from MIT. Our exhibit will feature video clips from BLOSSOMS lessons, along with numerous fun, hands-on activities drawn from those lessons. The Festival will take place April 15th, 16th and 17th at the Walter E. Washington Convention Center in Washington, D.C. Read more here.


BLOSSOMS is eagerly awaiting the spring arrival of the following three new lesson topics to our online video repository: 1) An introduction to Statistical Tests; 2) An Introduction to Green Chemistry; and 3) An introduction to Antibiotic Resistance. These lessons are being created by a combination of high school teachers, scientists and medical researchers.

BLOSSOMS will present at the March 12th Conference of the Rhode Island Science Teachers Association at LaSalle University in Providence. The theme of this year's conference is "Moving Towards an NGSS Classroom", and the BLOSSOMS session will discuss its video lessons that can directly assist teachers with this transition.
This brings the total number of Chinese translated lessons to eighteen. See them here.