New BLOSSOMS Lesson Focuses on the Logical Thought Process of Computer Programming

Tanzeela Ali, a graduate student at Superior University in Lahore, Pakistan, created the new BLOSSOMS lesson, "From Psychology to Logic: Learning Computer Programming in the Kitchen". This lesson summarizes all the findings and successful teaching experiments that Ms. Ali has done with her own students at the university in order to make them learn programming. The lesson focuses on the biggest problem faced by any young programmer - i.e. the Logic Building required while solving a particular problem. This lesson is designed for those students who are having difficulty demonstrating creativity while programming because they get stuck when they have to build the logic of a program. In this lesson, Ms. Ali has tried to reduce this ambiguity by relating the brain's planning process of every day activities to computer programming.


New BLOSSOMS Lesson Finds "Fantastic Factorials" All Around Us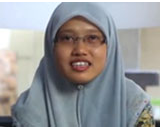 Have you ever realized just how useful an understanding of factorials can be in our daily lives? Two secondary teachers in Malaysia, Bashirah Seleman and Nor Shawaini Johari, have demonstrated this well in their new BLOSSOMS lesson, "Fantastic Factorials". Their video lesson begins with a story of a family vacation to Pulau Pinang, an island located 330 km from the city of Kuala Lumpur in Malaysia. In this video, lessons about using factorials are demonstrated through several challenges the family encounters while on vacation. Students will learn about the large number of ways to arrange people and objects using the mathematical concept of factorials. The lesson concludes with an introduction to Proof by Induction which students learn through a role playing activity.


More and More BLOSSOMS Lessons Have Accompanying Animations


Visit the fun and educational animations that accompany several BLOSSOMS lessons, allowing students to extend their learning beyond the classroom. See them here.
This online program, provided by the MIT Office of Engineering Outreach Programs (OEOP), is a six-month online enrichment program offered to highly talented students. Via an online community, students are exposed to faculty and staff of MIT; receive admissions and financial aid tips; participate in facilitated discussions about science and engineering research; share their own research; and explore mentorship opportunities. Learn more here.


David Black, a teacher at the Walden School of Liberal Arts in Provo, Utah, has taught computer technology and science classes for over twenty years in California and Utah. His students collaborate with scientists and engineers to create meaningful educational content, including 3D animations of lunar features for the NASA Lunar Science Institute and Martian dust storms for the Mars Exploration Student Data Team program; audio podcasts on astrobiology for the "365 Days of Astronomy" website; and videos for the SOFIA AAA program. Their student blogsite shares projects and lesson plans in astronomy and earth science for classes around the world. Watch David's BLOSSOMS lesson, The Parallax Activity: Measuring the Distances to Nearby Stars.

MIT STEM Pals is a newsletter written by and for those who are interested in issues of STEM education. If you'd like to share your ideas on this subject with others, this is your chance! Check out a sample issue here and sign-up for the newsletter at stempals@mit.edu.